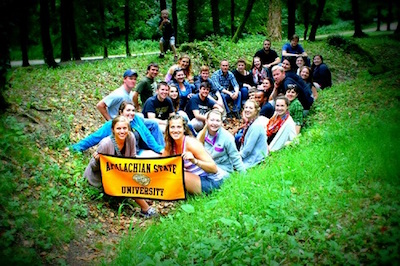 Sociology faculty often provide summer study abroad opportunities that can help you complete you major or minor in sociology. These opportunities can help you gain a global awareness of current social issues, as well as help you complete your General Education requirements at ASU.
Sociology students who have been abroad believe that these opportunities gave them a chance to see the world, better understand global social problems, and appreciate social diversity. Here is a link to a story about what some students thought about studying abroad with sociology: Studying War in Europe. If you are interested in studying abroad, then here some links below that can guide you to information and resources for these opportunities.
Study Abroad Opportunities Offered by Sociology Faculty for Summer, 2018!
WAR in EUROPE!: Travel to Czech Republic, Germany, Hungary, and Poland to Understand the Consequences of War and Genocide.
This interdisciplinary program offered by History and Sociology 6 s.h. of credit studying the causes and consequences of war in Europe. While traveling through the Czech Republic, Germany, Hungary, and Poland, students will learn about the impacts of World War II, the Cold War, and the Holocaust through the exploration of various historic sites, museums, and cultural exchanges. Extended excursions included in this trip are: visiting Berlin's "DDR" Cold War Museum, Jewish Holocaust Memorial, and Berlin Wall; Dresden's Military History Museum, Prague's Museum of Communism and Jewish Museum; Krakow's Auschwitz Death Camp; and Budapest's Hammer and Sickle Tour, House of Terror, and the Hospital in the Rock.
For more information, please feel free to contact Drs. Jason White (whitejc3@appstate.edu) or Cameron Lippard (lippardcd@appstate.edu).
International Education and Development
This link provides you access to look at all short- and long-Term Study Abroad Opportunities.