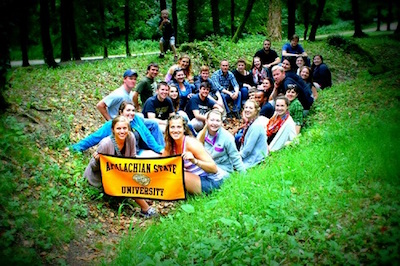 Sociology faculty often provide summer study abroad opportunities that can help you complete you major or minor in sociology. These opportunities can help you gain a global awareness of current social issues, as well as help you complete your General Education requirements at ASU.
Sociology students who have been abroad believe that these opportunities gave them a chance to see the world, better understand global social problems, and appreciate social diversity. Here is a link to a story about what some students thought about studying abroad with sociology: Studying War in Europe. If you are interested in studying abroad, then here some links below that can guide you to information and resources for these opportunities.
Study Abroad Opportunities Offered by Sociology Faculty Summer, 2017!
International Crime and Law in Scotland, England, and Amsterdam (May 18th to June 6th)
Join us this summer for an exciting program studying international law, crime, deviance, and punishment in the United Kingdom and the Netherlands, and in the process, earn 6 semester hours of credit.
This program will visit the following cities/countries: Edinburgh, Scotland; London, England; and Amsterdam and The Hague in the Netherlands.
This program's academic goal is to introduce students to the sociological understanding of international law, crime, deviance, and criminal punishment. The participating professors will team teach two courses that focus on examining the differences between American approaches to law and criminal behavior and those found in Western Europe. These classes will cover: (i) the comparison of legal systems, crime rates, and crime fighting techniques, (i) the determination of which behaviors are viewed as deviant and legal/illegal, and (iii) how approaches to criminal punishment differ across societies and the consequences of these differences. Students will enroll in two courses, "Sociology of Law," and "Crime, Deviance, and Punishment in the European Union." Both courses will rely on the hands-on experiences offered through the study abroad program, including visits to international courts, museums, walking tours, and other historical sites within Scotland, England, and the Netherlands to help students gain a more thorough understanding of the differences between legal and criminal approaches found within the United States and abroad.
Contact:
Dr. Kenneth Sanchagrin
Dr. Kelly Thames
CLOSED - WAR in EUROPE!: Travel to Germany, Italy, and Spain to Understand the Consequences of War and Fascism.
This interdisciplinary program offered by History and Sociology gives students 6s.h. of credit studying the causes and consequences of war in Europe. While traveling through Spain, Germany, and Italy, students will learn about the impacts of two world wars and the rise and fall of fascism through the exploration of various historic sites, museums, and cultural exchanges. Extended excursions included in this trip are: visiting Franco's Madrid, the Valley of the Fallen, and the Prado Museum, Guernica and Bilbao, the Hofbrauhaus where the Nazi party began, Nuremberg's Nazi Parade Grounds and the site of the Nuremberg Trials, Dachau Concentration Camp, Hitler's Eagle Nest nestled in the Alps, and finally, the envisioned cities of Mussolini in Venice and Rome!
Use this website to find out more information on how to sign up! You can also contact Dr. Cameron Lippard for more information (lippardcd@appstate.edu). Registration is now up and only has 24 spots; so, don't hestitate!
International Education and Development
This link provides you access to look at all short- and long-Term Study Abroad Opportunities.