On October 28th, three sociology faculty members received awards from Appalachian State University's College of Arts and Sciences. Senior instructor, Andrew Ferguson, received this year's Teacher of the Year Award. This honor recognizes excellence in teaching for full-time instructors, particularly for those instructors who go beyond just class instruction by challenging students to think critically and apply their knowledge. This is Andrew's third award in teaching since arriving to App State in 2005 as a part-time instructor. Students often remark that Andrew brings a wealth of experience and knowledge into the classroom. He also challenges students to think critically and develop a global perspective to tackle important issues facing society today including crime, terrorism, or war.
The second award winner was Dr. Amy Dellinger Page. Amy received the Jimmy Smith Outstanding Service Award for her tireless work in addressing social justice issues on ASU's campus and the broader community. The award honors a faculty member who has demonstrated meaningful and significant service to the College, the University, and/or the faculty member's profession. Amy has served on a number of initiatives and comittees including ASUnity, LGBT Advisory Board, the Multicultural Student Development Advisory Board, the Chancellor's Commission on Diversity, the Social Justice Collaborative, and the Chancellor's Interpersonal Violence Council. In addition to campus service, she has worked with several local agencies including OASIS, the local domestic violence and sexual assault center.
The final award winner this year was Dr. Martha McCaughey. Martha received the Donald W. Sink Family Outstanding Scholar Award. This award recognizes an outstanding tenured faculty member with a history of excellence in research, scholarship, and contributions to the faculty member's academic field. Martha's research has covered the intersections of gender, sexuality, science, technology, social movements, violence, and the media. She has published six books and over twenty journal articles, making her a recognized leader in a variety of disciplines. Moreover, she has also bridged the gap between academia and the public by contributiing to a number of non-academic publications on various topics, as well as been interviewed several times on film and television. She has even produced her on play titled, "The Wizard of OD: Being Not Quite a Musical or a Fairytale...," highlighting the intersections of gender, societal change, and the oddity of texting.
Congratulations to all of the award winners!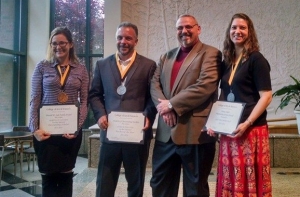 Tags: