In the field of gerontology, one of the growing areas or concentrations is "Age-Friendly Communities." The goal of this movement is to determine what steps may be necessary to make communities more manageable and functional for the burgeoning aging population. Internationally, the World Health Organization (WHO) and AARP (in the United States) are leaders in this movement.
As part of the requirements of Dr. Peacock's Gerontology (SOC 3100) course (Spring, 2014), students assessed the "age-friendliness" of the town of Boone, NC. The assessment instrument for this class (adapted from the WHO and AARP age-friendly communities assessments) was composed of eight sections. As such, the class was randomly divided into eight groups; each group being responsible for one section of the assessment instrument.
So how did Boone fare in age-friendliness? The town scored "Good" in the areas of Safety & Security, Shopping, Health Services, and Recreation & Cultural Activities. Boone scored "Fair" in the areas of Housing and the Caring Community. This score reflects that programs and services are available in Boone, but they are often hard to find and not centralized, especially if an elder is not already integrated into the community. Boone received a score of "Poor" regarding Transportation and Walkability. Public transportation (schedule, routes, etc.) in Boone is geared toward students and may not be available or may be confusing to elders in the community. The further from the ASU campus, there are fewer sidewalks and they are less well-maintained. The crosswalks are limited and require a fairly fast pace to cross in time; certainly not accommodating to older adults.
So, overall Boone scores a "C" in age-friendliness. Indeed, Boone may score better in some areas because Boone is a small town (e.g., good police presence, centralized area for health services, etc.) and it may score lower in other areas because it is a small, college town (e.g. public transportation geared toward students; lack of sidewalks and maintenance the further from ASU campus). But overall, this project helped raise awareness of some important issues and key things to look for through the eyes of our increasing aging population in the community of Boone, NC.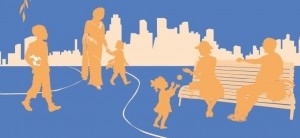 Tags: