The Department of Sociology congratulates three student majors who were recently awarded department scholarships in recognition of their academic excellence, community service, and original research.
Morgan Laverty, a Sociology major concentrating in Social Inequalities with a minor in Gender, Women's, and Sexuality studies, received the department's Janice Rienerth Endowment for Sociology Scholarship. Morgan is both a transfer and non-traditional student, and feels most appreciative of the continued support and opportunities received from the App State Sociology Department. This past year, Morgan served as the Sociology Club Secretary/Treasurer and assisted Dr. Lotesta with research regarding youth-led social movements. In addition, Morgan is a student intern for the AmeriCorps Foster Grandparent Program. After graduation, Morgan hopes to work in the non-profit sector, particularly in the areas of food security and/or addiction recovery. Morgan is most excited by opportunities to connect, learn, and grow with members of the local community!
Jordan Kelley received the Albert and Maxine Hughes Scholarship in Sociology for 2022. The award recognizes both Jordan's academic excellence and her sustained commitment to service and volunteer activities, which is reflected in her work as president of App State's Best Buddies chapter. Jordan is a double major in Sociology and Psychology with a minor in French & Francophone Studies and a member of the Honors College. After graduation, Jordan plans to pursue a master's degree in Special Education with the App State Graduate Program, with the ultimate goal of becoming a high school special education teacher.
Finally, the Department of Sociology was pleased to award the Ann Louise Paige Scholarship for Undergraduate Research Excellence in Sociology to senior Allison Costner. Allison is a Sociology major with a concentration in Social Inequalities, and Sustainable Development . Under the direction of Dr. Joseph Jakubek, Allison is conducting original research on food assistance programs among Indigenous communities in North Carolina. Post -graduation, Allison will be traveling abroad, and then returning to Boone to complete an internship with a local non-profit. In the future, Allison hopes to attend graduate school in pursuit of a master's degree.
Congratulations to all our scholarship recipients, and best of luck in all your future endeavors!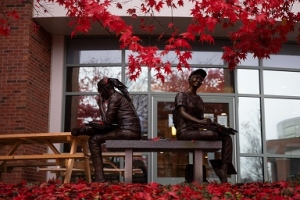 Tags: