Research by ASU Gerontology Director Dr. Ed Rosenberg and two Thai colleagues, Dr. Pornchai Jullamate (Burapha University) and Dr. Ouaypon Tungthongchai (Kasetsart University), won the Best Research Paper award at the 5th annual Political Science, Sociology & International Relations Conference 14 September in Bangkok.
Titled "Global Aging and Eldercare," the research entailed linguistic and cultural translation into Thai of Powerful Tools for Caregivers, a program that helps family eldercare providers become more knowledgeable, effective caregivers. It was found that the program significantly reduces caregiver stress and improves well-being for trained carers, as vs. no change in a control group.
Prof. the Hon. Dr. Stephen Martin, chair of the Board of Governors of the Global Science & Technology Forum, which organized the conference, presented the award to Dr. Rosenberg, who accepted on behalf of his co-authors.
Dr. Rosenberg is spending Fall semester in Thailand working with Dr. Jullamate, chair of Gerontological Nursing at Burapha University, and Dr. Tungthongchai, chair of Physical Education at Kasetsart. His work plan includes research, teaching, and advising master's and doctoral students. He will also be presenting at the International Association of Gerontology & Geriatrics conference in October in Chiang Mai, Thailand with Drs. Jullamate and Tungthongchai and Dr. Zaida Azeredo of Portugal.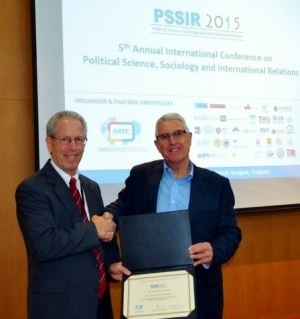 Tags: