Congratulations to the Department of Sociology's Outstanding Seniors of 2022! Your academic excellence and your contributions to the Appalachian sociology community are appreciated and valued.
Ella Fowler

Ella Fowler is a senior Sociology and English major with a minor in Experimental, Integrative Learning. She is also a member of the Watauga Residential College and the service fraternity Alpha Phi Omega. After graduation, she plans to take a gap year before pursuing a master's degree in library science. Ella was nominated as an outstanding senior for her dedication and hard work in completing a novel research project investigating the structure and representation of families in children's literature books. Ella put extra effort into ensuring that she conducted rigorous data collection and analysis. Ella also displayed a high level
of thought and quality of writing that has been evident in several aspects of her work.
Madison Geigle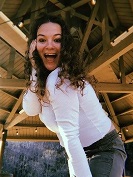 Madison Geigle is senior Sociology major with a Concentration in Social Inequalities and a minor in Social Work. Her passion is serving those who are house and food insecure. Ideally, she would like to be a case manager for them. After she graduates, she plans on continuing her education here with pursuing a master's in Social Work. In the future Madison plans to move to Washington State to pursue her career. Madison was nominated as an outstanding senior for her dedication both within and outside of the classroom. She has showed her excellence by dedicating time through her internship and class assignments to helping those in need at the Hospitality House. Through this effort she uses her sociological training to guide people to important resources.