Brenda Reece received a National Association of Area Agencies on Aging (N4A) Aging Innovations Award at the N4A annual conference July 11-15 in Philadelphia. The award, sponsored by Critical Signal Technologies, recognizes effective, innovative, easily replicable aging service developed under an Area Agency on Aging. (North Carolina has 16 AAAs.)
Reece (second from left in the photo) received the award from Joseph Ruby, N4A president, and Heather Sellers and Gina Peterson, representing Critical Signal Technologies.
Brenda, a former App State graduate gerontology student, is the High Country Area Agency on Aging's (AAA) Family Caregiver Support Specialist and founder and director of the High Country Caregiver Foundation, for which she received the award. The foundation, operating since 2007, has a mission of helping older people maintain their health and independence as long as possible by supporting them and their family carers. The foundation does this via information, education, training, and financial support, delivered via respite care, emotional support, individual counseling, care management, caregiver appreciation events, advocacy efforts, and educational programs.
"Family caregivers provide the majority of long-term care in this country," Brenda said, "and, just like any other job, they need our support, education and resources."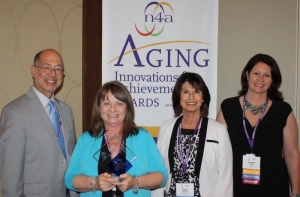 Tags: