One great experience undergraduate sociology students can have at App State is conducting their own research on what they love or what they are curious about in our society. Grayson Bodenheimer, a junior and sociology major with a concentration in social inequalities, has followed his passion for understanding the sociology of emotions. His current research focuses on the emotion work of teachers and how it impacts their preceptions and rates of "burnout." Grayson stated this about his experiences with research:
"Conducting research has been an interesting process. I have had great results and have thoroughly enjoyed the theoretical portions of my research. Reading previous works, finding obscure articles on my topic to discover gaps in the literature, and discussing these theories with professors across the department (and even across campus) has strengthened my skills as a researcher immensely."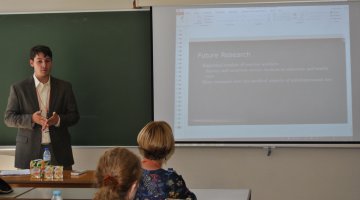 However, Grayson has done more than just do research. Grayson has presented, or plans to present, at a number of professional conferences about his research. In July of 2015, Grayson travelled abroad and presented his work on antidepressant usage in the United States at the European Network for Social and Emotional Competence (ENSEC) in Lisbon, Portgual. Just recently, he also completed a poster presentation at the North Carolina Sociological Association annual conference on February 12, 2016 on his educator burnout research. Grayson has also been accepted to present at SEUSS (SouthEastern Undergraduate Sociology Symposium) conference at Emory University and at the NCUR (National Conference on Undergraduate Research) at the University of North Carolina - Asheville. He also sent in his work to be considered for presentation at the American Sociological Association. Grayson had this to say about attending conferences and doing research presentations:
"My experiences at conferences have been outstanding. SEUSS 2016 will make my fifrth off-campus presentation, and not a single one has been remotely negative. This is largely because there is always at least one person who is interested in my topic and has advice or critiques to offer, though they have never been explicitly negative. ENSEC 2015 was my most positive experience, as I was surrounded by teachers and those studying education from across Europe, and their advice and experiences helped shape the current trajectory of my research. My research largely depends on comments from those in caring and helping professions, so presentations give me the chance to disseminate my research and findings while guaranteeing feedback from those who have experienced that which I am studying."
Of course, any student can get start their own research agenda or get involved in faculty-led research. These opportunities come about in the classroom, particularly in our senior capston course, but also through collaborations with faculty members. As Grayson stated,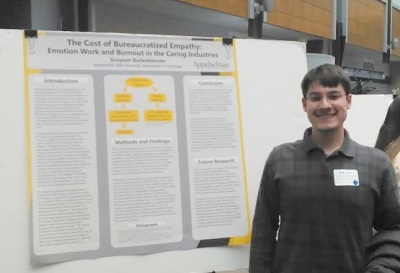 "While I may have done most of my research outside of the classroom, I have received support from so many members of our department. I could list off numerous professors who have worked tirelessly to support me, especially Dr. Page and Dr. Osinsky. We have an amazing department, and it is my hope that making my research efforts visible to other students will strengthen their resolve to get involved in research."
If you have questions about starting your own research or getting involved in faculty research, please ask a sociology faculty member or contact Dr. Cameron Lippard, Director of Undergraduate Studies via e-mail (lippardcd@appstate.edu).