Interdisciplinary Research leads to Comprehensive Book about Contemporary Perspectives on War around the World
BOONE, N.C. – War is ever present on the minds of people around the world. To date, 22 major conflicts rage on across the globe and most will continue into the near future with no real resolve. In the United States, war has been a constant since the terrorist attacks of September 1, 2001. American and allied forces have spent almost seventeen years at war in Afghanistan with various terrorist organizations. And, while the war in Iraq was declared a "success" in 2003 by former U.S. President, George W. Bush, this war continued on for another eight years until a majority of American forces were withdrawn in 2011. However, the U.S. and other countries around the world still find themselves involved in some of the most deadly and risky war operations ever seen.
Noting the perpetual nature of war and its impact on Americans and others around the world, Drs. Cameron Lippard, Pavel Osinsky and Lon Strauss, faculty members of the Department of Sociology, in the College of Arts and Sciences at Appalachian State University, set out to create a comprehensive and interdisciplinary textbook to explain war today. They realized that their students have lived their entire lives with war in the background; many of them veterans who have been deployed several times to war zones in the Middle East.
"My students look to me for more information about war…particularly how to stop it and what citizens can do to be more supportive of veterans returning who are suffering from various forms of trauma," stated Lippard.
All three of these professors teach courses related to war with very few resources that provide broad theoretical and empirical evidence that can reach undergraduate students to discuss contemporary issues of war. Drs. Lippard and Osinsky teach a course on war titled, Sociology of War. This course is also part of Appalachian's general education curriculum and is one of several courses students can take in the theme of "War and Peace."
Strauss is an Assistant Professor of Military History at Marine Corps University in Quantico, Virginia. Strauss' courses focus on history of American warfare, particularly examining the various aspects of surveillance and intelligence gathering during World War I.
With students and world events in mind, the authors spent three years constructing an interdisciplinary and contemporary volume about war and its impacts on human society. The title of this new publication is, "WAR: Contemporary Perspectives on Armed Conflicts around the World." The volume consists of seven chapters examining various theoretical and empirical arguments about the causes and consequences of war including: an examination of how culture shapes meanings of war; a discussion on war and its relationship to social stratification; military participation and its consequences; and the world's attempts at peace and anti-war movements.
This comprehensive volume was published by Routledge, a global publisher of academic books and journals. Top war scholar, Siniša Malešević at the University College Dublin stated, "This book provides one of the most comprehensive interdisciplinary introductions to the study of war. The authors were particularly successful in writing a wide ranging and very well illustrated book that is also highly accessible and full of great insights. This book will appeal to the wider audience interested in the social dynamics of armed conflicts."
In addition, other scholars and academics have suggested that the authors were skillful in discussing war and armed conflicts because they also inserted current events and real-life discussions on a variety of topics, even discussing how media shapes our views and beliefs in war.
"WAR" is now available for purchase through Routledge or Amazon. If you are interested in hearing more about this book and its use in the classroom, please feel free to contact Dr. Cameron Lippard, Appalachian State University at lippardcd@appstate.edu.
https://www.routledge.com/War-Contemporary-Perspectives-on-Armed-Conflicts-around-the-World/Lippard-Osinsky-Strauss/p/book/9781138932531
About the Department of Sociology
The Department of Sociology offers a Bachelor of Arts and six Bachelor of Science concentrations (applied research methods; criminology; deviance and law; families and intimate relationships; gerontology; social inequalities; and individually designed, which requires departmental approval). The department also offers minors in sociology and gerontology, plus two online graduate certificates in gerontology and sociology. Learn more at https://soc.appstate.edu.
February 28, 2018
By: Ellen Gwin Burnette and Cameron Lippard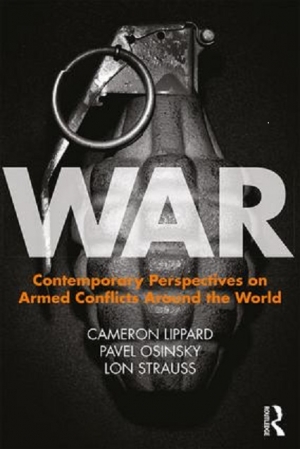 Tags: