On Saturday, November 23, Katelin Smith, a Junior at Appalachian State University majoring in Sociology with a concentration in Social Inequalities, gave an oral presentation on her research titled "Exploring why women use #metoo to share personal experiences of sexual assault: a qualitative descriptive study" at the 15th Annual State of North Carolina Undergraduate Research and Creativity Symposium (SNCURCS) at Duke University in Durham, NC. She was joined by students from across North Carolina, including others from Appalachian State, who came to the event to share their research through oral presentations and posters.
Katelin's research drew from 14 qualitative in-depth interviews with women who shared their experience with sexual assault or harassment on social media platforms using the #MeToo hashtag. An analysis of these interviews revealed how family support and internet communities shaped how women experienced trauma, as well as how sharing one's story online via social media platforms differs from sharing through more traditional mediums like face-to-face interaction. Her oral presentation was very well received by the conference audience and drew interesting questions, including about how the stigma surrounding sexual assault has evolved since the #MeToo movement sprouted in 2006.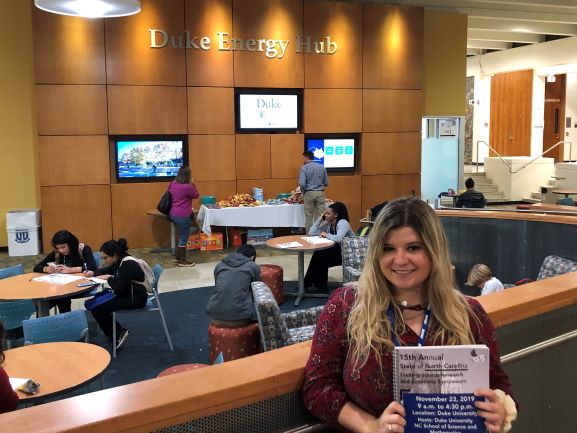 Katelin was excited to visit the campus of Duke University for the SNCURCS conference. Asked about her experience, Katelin replied that "SNCURCS was a great opportunity to share my work and learn more about different fields of research and research methods." Upon completing her undergraduate studies at Appalachian State, Katelin plans to enroll in a PhD program in Sociology to further explore trauma and recovery among young women.