Dr. Ed Rosenberg, director of AppState's Gerontology Program, received the Region D Council of Governments Senior Tarheel of the Year Award at the Council of Governments' annual banquet September 4 at Linville Ridge. Region D is comprised of Alleghany, Ashe, Avery, Mitchell, Watauga, Wilkes and Yancey counties.
The award was presented by High Country Council of Governments executive director Mickey Duvall (left) and Gary D. Blevins (right), chairman of the Council of Governments' executive board. The Senior Tarheel Legislature, according to STHL speaker Chuck Youse, "was created to provide information to senior citizens on the legislative process and matters being considered by the North Carolina General Assembly."
The STHL annually develops legislative priorities related to enhancing the lives of North Carolina's rapidly growing older population, and advocates for those priorities with the state legislature.
Rosenberg is one of two STHL members representing Watauga County, and has served since 2010.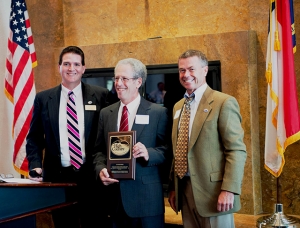 Tags: