Announcing an exciting ASU Study Abroad Opportunity to earn ASU credit while traveling in Europe:
Religious and Ethnic Conflict in Western Europe: Spain and Ireland
May 12-June 5, 2015

HIS/SOC 3535 Religious and Ethnic Conflict in Ireland and Spain and HIS/SOC 3538 Peace, Justice, and Conflict Resolution in Ireland and Spain

This study abroad program allows students to earn six History and/or Sociology credits at the 3000 level. It introduces students to a comparative historical and sociological examination of religious and ethnic conflict in Ireland, Northern Ireland, and Spain. Though separated by the Bay of Biscay, Spain and Ireland share many common historical and religious experiences: They are both deeply Catholic nations that have been ripped apart by religious and ethnic conflicts. In the 20th century they both suffered bloody civil wars and militant terrorist movements. Since joining the European Union and Euro zone both nations have experienced rapid economic growth and development, followed by equally devastating recessions since 2008.

Our first organizational meeting will be September 17th, 5:30pm, in Chapel Wilson 206.
For more information visit our website!: http://history.appstate.edu/node/1093
---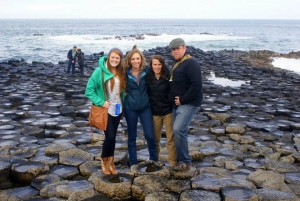 Tags: