Two Thai doctoral students who are spending Spring semester as Visiting Researchers at Appalachian State University presented their work last week at the Southern Gerontological Society's annual conference.
Mr. Worawut Chompoopan described his research on the effects of Arm-Swing Exercise (ASE) on older adult health. Using an experimental design and older Thai participants, he found that this Chinese traditional exercise – an easy, safe, no-cost physical activity – significantly reduced resting heart rate, blood pressure and depression, and improved balance and health-related quality of life.
Ms. Kanchana Nimsuntorn focused on improving the self-care ability of community-dwelling older Thai adults by allowing them to determine their preferred self-care intervention activities. Her sample chose health education, traditional Thai dance, and monthly intergenerational birthday parties as interventions. Six months after implementation, participants showed significantly improved self-care ability. However, Ms. Nimsuntorn also discovered that traditional Thai culture – specifically the expectation, held by both elderly Thai parents and their adult children, that adult children will care for their aging parents – may impede elderly self- care.
Mr. Chompoopan and Ms. Nimsuntorn are under the supervision of Dr. Ed Rosenberg.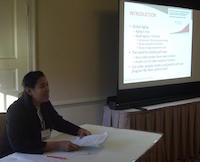 Tags: