Each year, the College of Arts and Sciences selects a member from the Academy of Outstanding Teachers for the Teacher of the Year title. In order to make this decision, a committee of college professors reviews nominations and letters of support from students, alumni, supervisors, and colleagues. After being selected for the Academy of Outstanding Teachers last year, Dr. Ellen Lamont was selected to receive the 2018-2019 Teacher of the Year Award for her inspirational and tireless efforts in teaching.
Dr. Ellen Lamont is an Assistant Professor and Honors Program Coordinator in the Department of Sociology, as well as an affiliated faculty member in the Gender, Women's and Sexuality Studies program. The numerous nominations that current and former students,
as well as colleagues, submitted to the committee, coincide in highlighting Lamont's remarkable ability to balance the high academic and critical standards of her classes with engaging and meaningful conversations about difficult yet highly relevant matters. The letters unanimously acknowledge Lamont's full and genuine dedication to her students' growth, as citizens and scholars, in a way that even transcends the context of academic debates and curricular requirements. Indeed, many of the endorsements received came from her former students, mentees, and advisees, who, hailing from their current prestigious graduate programs and professional appointments, look back on their time at Appalachian State, reflect on the role Lamont had on their careers, and describe their intellectual and professional achievements as clear confirmation of Lamont's pedagogical excellence.
Congratulations to Dr. Ellen Lamont's success in teaching at Appalachian State University. The Department of Sociology wishes her even more fruitful years as an instructor that pushes students to learn, engage, and change the world through social policy.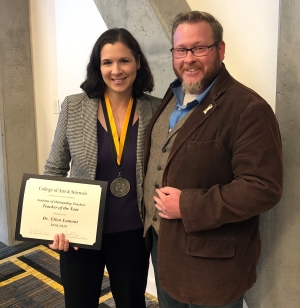 Tags: