Starting this Fall 2021, the Department of Sociology will offer a new Bachelor of Science concentration in Sociology focusing on power and social change. This concentration is an exciting new edition to sociology's curriculum and degree offerings and is in response to the growing tensions and social problems surrounding politics, government, and social movements. Below, you can found out more about this new concentration and how it might best serve your curiosity and educational needs at Appalachian State University.
WHAT IS THIS CONCENTRATION ABOUT?
The everyday realities of society past and present are shaped by the push-and-pull of power and resistance at the macro, meso, and micro levels. The social movements of the twenty-first century - Occupy Wall Street, #MeToo, and Black Lives Matter - are prominent examples of current struggles for social change, which pushes against the pervasive forces of oppression, exclusion, and exploitation. These movements, in turn, are made possible by collective struggles of the past, even as they are constrained by the very systems of power they seek to upend. It is this dynamic push-and-pull that has for so long occupied the heart of political sociology, and which grounds the present concentration. The Power and Social Change concentration is designed to provide students with rigorous training in political sociology with a primary focus on the interaction between power structures, cultural meanings, civil society, new technologies, and social movements.
WHO IS THIS CONCENTRATION FOR?
This concentration is an opportunity for students interested in analyzing, understanding, and addressing issues of power and inequality in society. A sociological approach to these issues grants an appreciation not only for how power operates in formal settings like government agencies and legislative bodies, but also informally in the realm of civil society. Additionally, students will develop valuable research, writing, critical thinking, and oral communication skills transferable to a diversity of fields, including law, politics, consulting, organizing, advocacy, and government relations.
HOW WILL THIS CONCENTRATION ASSIST YOU AFTER GRADUATION?
Employment: Graduates will have the skills necessary to pursue career opportunities in governmental agencies, non-profit organizations, law, social movement organizations, advocacy organizations, corporate & political strategy, and conflict resolution centers.
Graduate School: Students may use this degree to prepare themselves for master's and doctoral programs in sociology, political science, public administration, law, and global studies.
WHAT DOES THIS PROGRAM OF STUDY LOOK LIKE?
Use this link to find out more about the course offerings and concentration requirements - Bachelor of Science in Sociology, Concentration in Power and Social Change
AFFILIATED FACULTY:
Dr. Johnnie Lotesta, a political and cultural sociologist, joined App State's Department of Sociology as an assistant professor in fall 2021. Her interests include political parties, labor and social movements, public policy, and American politics. As part of a recent project, Dr. Lotesta is working with a team of social scientists to understand how youth organizers in the U.S. think about and work toward social change.
Dr. Brad Nash, professor in the Department of Sociology, teaches courses in areas that include Sociology of Work and Organizations, Sociological Theory, and Social Movements. Dr. Nash's research focuses on labor union, political policy, and comparative-historical analysis.
Dr. Pavel Osinsky, professor in the Department of Sociology, specializes in sociology of globalization, sociology of war, and comparative-historical sociology. Currently, Dr. Osinsky is working on a project which explores the origins of the large empires of Eurasia in the context of the frontier interactions between the settled agricultural civilizations and the militarized nomadic polities.
QUESTIONS? SEND US AN EMAIL: Dr. Johnnie Lotesta – lotestaja@appstate.edu | Dr. Brad Nash -- nashb@appstate.edu | Dr. Pavel Osinsky -- osinskyp@appstate.edu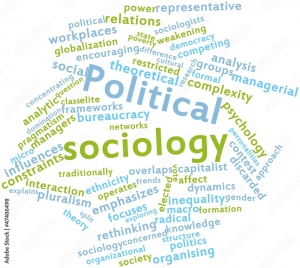 Tags: