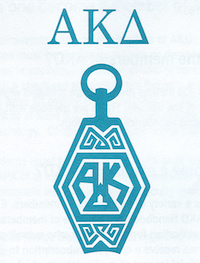 Alpha Kappa Delta (AKD) is the International Sociology Honor Society. AKD was founded in 1920 at the University of Southern California by Dr. Emory S. Bogardus and became affiliated with the Association of College Honor Societies (ACHS) in 1967. AKD is also affiliated with the American Sociological Society (ASA).
The purpose of Alpha Kappa Delta is to acknowledge and promote excellence in the scholarship in the study of sociology, the research of social problems, and such other social and intellectual activities as will lead to improvement in the human condition.

Alpha Kappa Delta is a non-secret, democratic, international society of scholars dedicated to the ideal of Athropon Katamannthanein Diakonesin or "to investigate humanity for the purpose of service."

Membership is open to undergraduate students, graduate students, and faculty members from active chapters who meet our minimum standards. Currently, there are more than 115,000 members in Alpha Kappa Delta and over 650 chapters.
Below are the requirements for eligibility in joining this society:
Must be an officially declared sociology major or demonstrate a serious interest in sociology within an official program of the host institution.

Sociology minors are eligible.
Other majors are eligible so long as they have taken at least four SOC classes and meet all other requirements.

Must be at least a junior (third year) by standards of the host institution.
Shall rank in the top 35% of their graduating class in general scholarship.

If class rank is not readily available to a chapter representative, in lieu of class rank, students shall have accumulated the equivalent of an overall grade point average of at least 3.3 by a four point scale where: A=4, B=3, C=2, D=1, F=0

Must have maintained the equivalent of a 3.0 GPA in sociology courses taken at the host institution prior to initiation.
Must have completed at least four regular courses in sociology at the host institution prior to initiation (exclusive of extension or courses graded pass/fail).
If you are interested in membership, then please contact Appalachian State University's Chapter Representative, Kristen Ivey (iveyks@email.appstate.edu) and Anastacia Schulhoff (schulhoffam@appstate.edu).